Valid PAL required for Canadian Residents only. Please include PAL number and birth date in the info box in the contact details when registering or checking out. Thanks
Silencer not included. Canadian version
(Scope also not included)
Here is an amazing deal! These are high power regulated rifles with high shot count and great consistency. Great for hunting and long range target shooting, all for an amazing price!
.25 caliber includes a single shot tray and 9 shot magazine and .22 comes with an 11 shot magazine and single shot tray.
The rifles have a power adjuster at the back and you can increase the velocity greatly in both calibers, or detune as you wish.
Here's a 5 shot 100 yard group with JSB King. 5/8″! (your results may vary, every barrel is different)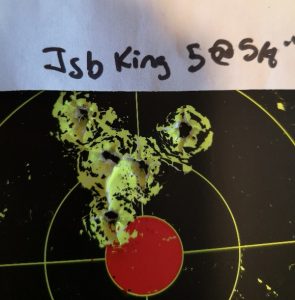 CALIBER
6 mm(.25)/5.5mm(.22)/4.5.mm(.177)
VELOCITY
Cal .25 pellets,approx. 40 shots at 800fps or 30 at 900fps

Cal .22 16gr pellets 1000fps,approx. 50 shots at full power/90 shots at 830fps

Cal 177 10gr pellets 1100fps approx 60 shots

AIR CAPABILITY
250cc
UNIT WEIGHT
Adjustable manual safety, ON 1~6Lbf/OFF 1~6 Lbf
SAFETY
Adjustable manual safety,ON 1~6 Lbf/OFF 1~6 Lbf
REGULATOR
included, can be adjusted from 100 bar to 180 bar
WEIGHT
3.50kg 7.7lbs
TRIGGER
Two-stage adjustable,1-6Lbf
L*W*H
1170*48*60(mm)
MAGAZINE
5.5mm(.22) holds 11 pellets 6mm(.25) holds 9, 177 13 pellets
SUPPRESSER
muzzle brake, no suppressor
FILL PRESSURE
Max.25MPa/250bar